Dwyane Wade says Luka Doncic reminds him of LeBron James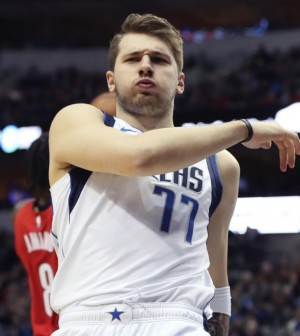 Luka Doncic received the greatest compliment the other day.
In case you missed it, Wade spoke about rookie sensation Luka Doncic following the Miami Heat's 112-101 win over the Dallas Mavericks. While singing Doncic's praises, he compared the Slovenian style of play to none other than his great friend LeBron James.
"Write down what I am going to say…What Doncic does reminds me of LeBron James on how he is able to find shooters in the corner and complete passes when he is besieged." said Wade after the game.
There's not many guys who can do that and put it right there. He does an amazing job of it."
Doncic, who was selected third overall by the Atlanta Hawks and subsequently traded to the Mavericks in exchange for the 5th overall pick in the 2018 NBA Draft, finished the game with 18 points, 12 rebounds and nine assists in 33 minutes.
As for his season so far, he leads all rookies in points per game (20.7), and is ranked second in rebounds (7.2) and assists (5.6). It's an arms race between Atlanta Hawks guard Trae Young and Phoenix Suns center DeAndre Ayton on who will take him the 2018/19 Rookie of the Year honours.