Durant "hasn't even stepped on the floor yet", but Warriors remain hopeful he will return in WCF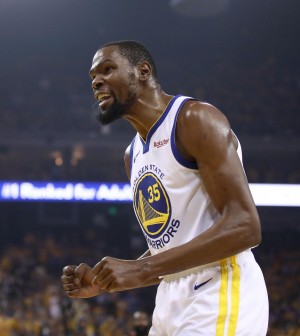 One thing we know for sure is that Kevin Durant will not play Game 1 of the Golden State Warriors' Western Conference Finals series against the Portland Trail Blazers due to a strained right calf. He is also doubtful for Game 2, and is expected to be re-evaluated on Thursday to determine his status moving forward.
So when exactly will he be healthy enough to return to the court? The Warriors remain hopeful he will return against the Blazers, but still has a long way to go in his recovery.
"He hasn't even stepped on the floor yet…We've tried to remain somewhat vague because the injury is really sort of open-ended in terms of how long he's going to need to recover. But I think in doing so, people have gotten the idea that he's going to come back … be Willis Reed or something" said Warriors head coach Steve Kerr on Monday.
"He still has pain. So there's time ahead of him on the rehab process…We'll have a more detailed update on Thursday"
The Warriors proved they don't need to have Durant in the lineup to win, but he has stepped up big this postseason. Prior to his injury in Game 5 vs the Houston Rockets, the two-time NBA Finals MVP has put up incredible numbers this postseason. In 11 games, he has averaged a career-best 34.3 points to go along with 5.2 rebounds, 4.9 assists, 1.2 steals and over a span of 39.1 minutes per game.
The Warriors kick off their fifth straight Western Conference Finals appearance on Tuesday night.