Ducks Eliminate Flames with Series Sweep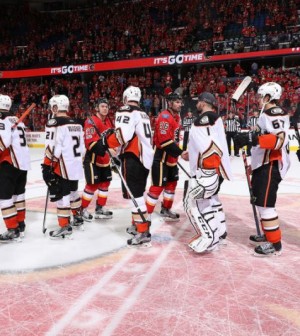 Bring out your brooms folks because the Anaheim Ducks were the first team to sweep a series in the 2017 NHL playoffs. After finishing 1st in the Pacific Division of the NHLs Western Conference the Anaheim Ducks were matched up against the Calgary Flames who finished in the 1st wild card spot.
Down 3-0 in the series, the Ducks were hoping to finish the Flames off and get a short break while they await the other series to finish. The Ducks took a 1-0 lead as Patrick Eaves threw the puck on net from the corner. It wasn't the prettiest goal but it gave the Ducks the lead. The Flames were unpleased with the performance of Brian Elliot in game 3 so he was given a short leash for game 4. After giving up a bad goal that lead to the Ducks 1-0 lead, the Flames immediately pulled Elliot. Chad Johnson replaced Brian Elliot but allowed a goal just 01:08 minutes later. Nate Thompson buried a rebound to a give the Ducks a demanding lead in a vital game for the Flames. Sean Monahan cut the lead in half as he scored his 4th of the playoffs on the power play. The Flames were never able to comeback and ended up losing 3-1 as Ryan Getzlaf scored his 3rd of the playoffs on an empty net.
The Flames were eliminated from the playoffs after only 4 games but have a bright future, as many of their players are young and talented. They Flames have potential for the future, and they gained playoff experience so look out for them next year.