Doctors advise Ray not to play rest of season due to neck injury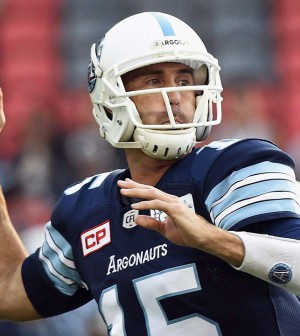 Ricky Ray's season with the Toronto Argonauts may be done before it even starts.
Here is what we know:
Ray was injured in the third quarter of Toronto's 41-7 home loss to the Calgary Stampeders.
Ray left the field Saturday night on a stretcher with his head immobilized after being sandwiched between Calgary defensive linemen Ja'Gared Davis and Cordarro Law. The play was halted for over 20 minutes as medical personnel treated Ray.
On Monday night, the Argonauts announced that Ray had been released from the hospital and that he would be out for a "significant time" which, given that Ray is 38 and considered retirement at the end of last season, put a large shadow of doubt over whether he would ever play again.
The Argos also said Ray will undergo more tests to further evaluate the injury and there's no timeline for his return.