Djokovic parts ways with coaches Agassi and Stepanek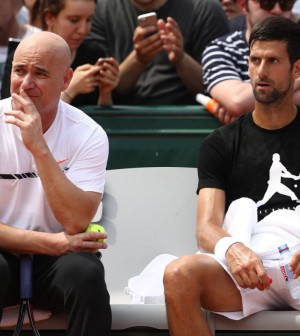 Novak Djokovic has decided it's time for a change.
In the midst of three-match losing streak and a two-year span since his last Grand Slam title, the 12-time major champion has decided to cut ties with coaches Andre Agassi and Radek Stepanek. A statement on his perosnal website confirmed the split from his coaches:
After Miami Novak Djokovic and his tennis coach Radek Stepanek decided to end their cooperation.

The private relationship with Stepanek was and will remain great, and Novak has enjoyed working with him and learning from him.

He remains grateful and appreciative of all the support he has received from Radek during the last period.

Novak remains focused and eager to come back stronger and more resilient from long injury break that has affected his confidence and game.

He is continuously and passionately looking for new and different ways to regain winning form.

Djokovic will upon his short holiday with a family start his preparations for the clay season and upcoming tournaments.

The cooperation between Novak and Andre Agassi has also ended.
The 30-year old Serbian has dealt with lingering elbow injuries for nearly a year. He withdrew from the 2017 U.S. Open and the remainder of the 2017 ATP season back on July 26, 2017. He underwent elbow surgery in Janaury, and returned to action at BNP Paribas Open in early March.