Devils give head coach John Hynes a multiyear contract extension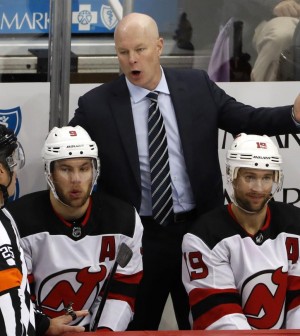 Despite a rough season, the New Jersey Devils still have faith in their head coach.
The team announced Thursday that they have inked John Hynes to a multiyear contract extension. Financial details were not disclosed.
The 43-year old, who was initially hired on June 2, 2015 and is in his fourth season with the franchise, has posted a combined 125-122-38 record during his tenure with the Devils.
"We've established a standard in New Jersey of what we expect, how we act, how we practice and how we play. Throughout my time here, the management, scouts, coaches, players and support staff have worked tirelessly to create this culture." said Hynes.
"We will continue to instill in our team the tenets of grit, compete and being a self-starter, as we build this brotherhood. I appreciate the confidence [managing partner Josh Harris], [co-managing partner David Blitzer] and [general manager Ray Shero] have shown in me from Day 1 and know that the entire organization is pulling in the right direction."
The Devils currently sit second last in the Metropolitan Division this season with a 15-17-7 record with 37 points through 39 games.