DeRozan scores franchise-best 52 points in overtime win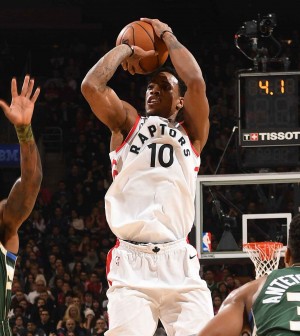 Yes the Toronto Raptors won a hard-fought battle against the Milwaukee Bucks in overtime on New Years Day, but the victory has taken a backseat after what DeMar DeRozan accomplishing on the night.
In 43 minutes, DeRozan finished the game with a franchise-record 52 points on 17/29 shooting (including a perfect 13/13 from the free throw line) to go a long with eight assists and five rebounds. He drained a couple free throws late in overtime to surpass Vince Carter and Terrence Ross for most points in a game in Raptors history.
"Tonight, DeMar DeRozan played like a superstar," said Raptors coach Dwane Casey.
"He was playing with a lot of juice, oomph…You could see the bounce in his step in the first quarter, the force he was playing with coming off pick and rolls, bouncing up and he maintained that throughout the whole game, which was huge for him."
With the win, the Raptors improved to 25-10 on the season, and now sit just 2.5 games back of the Boston Celtics for first place in both the Atlantic Division and Eastern Conference.
They will now embark on a three-game road trip starting in Chicago on Wednesday, vs the Bucks again on Friday, and then the Brooklyn Nets next Monday before returning home again to face the Miami Heat on January 9th.