Dee Gordon calls Miami Marlins offseason embarrassing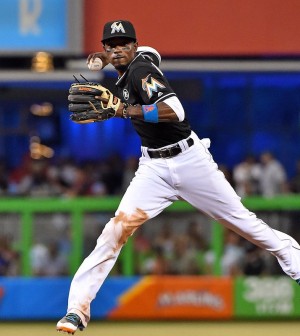 Seattle Mariners infielder/outfielder Dee Gordon, who was traded away from the Marlins on December 7 after three seasons with the club, was recently asked about his former team's offseason moves. It's safe to say he didn't hold back in his criticism.
"It's terrible. It's almost – I'm not even going to say almost. It's embarrassing. It's embarrassing. I don't want to bash anyone, but what's happened is not good." said Gordon.
The Marlins, who are in their first offseason under new Derek Jeter ownership, have so far traded Gordon, reigning NL MVP Giancarlo Stanton and Marcell Ozuna. Two other players – catcher J.T. Realmuto and outfielder Christian Yelich – have reportedly requested trades during the fire sale. Gordon heard the rumours, but didn't actually believe they would come to fruition.
"At first it was like, ha ha ha, they bought the team and they're going to trade us…We were like, there's no way you can buy a team for $1 billion and have to trade everybody." added Gordon.
The 29-year old had a bounce back campaign in 2017. In 158 games, he posted a .308 batting average, two homers, 33 RBI and a league-best 60 stolen bases. He has three-years and $37 million remaining on his contract.