Daniel Cormier OK With Not Being Fan Favourite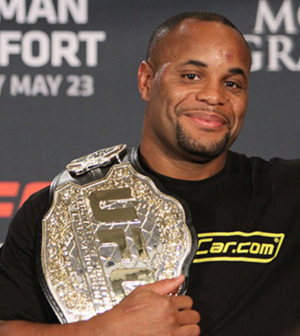 After his title defense win over Anthony Johnson at UFC 210, a chorus of boo's could be heard by Daniel Cormier. This is relatively new territory for the light heavyweight champ, but he is very comfortable in his own skin, with some help from some WWE stars.
"Lately I've been having to do a little more talking because the fans have, they've kind of turned on me – which is okay," Cormier said, according to MMA Fighting's Jed Meshew. "I get it. It's okay. But I kind of relate myself to Roman Reigns, John Cena, those types of guys. Guys that are supposed to be good guys but the fans just have something that they don't like, something that doesn't resonate with them. So I've kind of been having to talk a little bit more and it's refreshing."
Cormier realizes that it's not always being the good guy that gets you the fans, some people feel more relatable to the bad guy, and Cormier understands that.
"People don't want to be told, 'I'm good so you should cheer for me.' Jon Jones is a guy that has made a lot of mistakes, so maybe people relate to him more. They go, 'Forget this Daniel Cormier goody two-shoes, him and his kids and his family. I want the guy that does coke and parties and crashes cars. That's the guy I want.'
"Maybe I'm not cool enough because I go to work, I fight, when I'm not fighting I go back and I go to my kids' soccer and baseball games. That's what I do. I go to wrestling. I'm not out partying. I'm not out doing all kinds of crazy stuff. Maybe I'm just too boring but I'm fine with it. I like my life."
Cormier's only blemish on his record is a loss to Jon Jones, and that is something he wants a chance to fix.
"It sounds good. Jon and I have been scheduled to fight five times and we've fought once. I hope that everything gets done and we get to fight in Anaheim because he's my white whale. He's that guy I have to go chase down, I have to get it done. So me and my legacy, for my sanity, for me as a competitor, I have to stand across the octagon from Jon Jones again and win this time."