Daniel Cormier knocks out Stipe Miocic for heavyweight title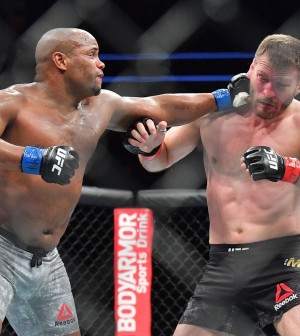 Cormier went into the Octagon looking to make history and become a simultaneous two-division champion by defeating reigning heavyweight champion Stipe Miocic — and DC did just that.
Daniel Cormier made history by becoming the first-ever simultaneous light heavyweight & heavyweight champion. He became only the second man in UFC history to hold two belts at the same time and did so by defeating the most dominant Heavyweight champion in the promotion's history.
This was the ultimate redemption story for Cormier. His astonishing run at light heavyweight was overshadowed by losses to Jon Jones, which were complicated by Jones' repeated drug test failures. That shadow meant Daniel Cormier was probably never going to be considered the best light heavyweight ever. By becoming a two-division champion, Cormier has transcended that argument.
The new champ wasted no time in calling former heavyweight champion Brock Lesnar to the cage, who was sitting Octagon-side for the main event. Lesnar entered the Octagon, shoved Cormier and quickly provided an answer. Cormier took the microphone and emphatically told Lesnar, "Shove me now and go to sleep later," making quite the early prediction for their reported showdown, which does not yet have a date as Lesnar re-enters the USADA testing program.
"Brock decided to step in the octagon with me," Cormier said. "He's a pro wrestler. He does fake fighting. So I'll do fake fighting with you until I put my fists upside your face."
Cormier expects to fight Lesnar in March. Cormier plans to retire after the big-money bout, has vowed to quit the sport after turning 40.