Cyclist Chris Froome Fails Drug Test Following Win
By
Admin
on December 13, 2017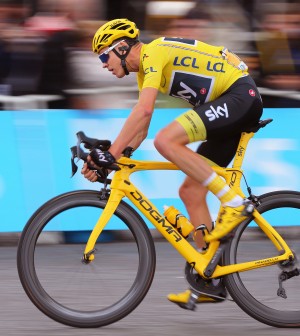 One of the world's most successful cyclists, Chris Froome recently failed a drug dest following his Vuelta win back in September. An investigation has revealed that the four-time Tour De France winner was found with high levels of salbutamol, an asthma drug. Currently, a team is working for Froome to challenge these findings and attempt to save his reputation and career. It is highly likely that if they are unable to provide a good enough reason for the findings, he will have to give up his Vuelta win. Among giving up his title, Froom could be banned from some of the most reputable cycling races around the world such as the Tour De France.
Froome has since commented, saying that his asthma requires him to use an inhaler but, getting closer to Vuelta, he had to increase his dose when it got worse. That being said, he states that he knows the rules and did not exceed his allotted maximum amount. But Froome and his team have made a statement saying that the drug's effect on physiological issues and the metabolism of the user has a complex science behind it and that they will be looking into what exactly happened.
For now, he will not be facing a suspension as the UCI look into other drug test results. Clearly the drug is one that Froome understands as he utilizes it on a regular basis and likely hasn't intentionally attempted to cheat. Should it be confirmed that he, in fact was over the limit of his salbutamol levels, undoubtably Froome's team will contest the findings in an attempt to maintain his reputation as Britain's most successful cyclist.