Cormier would like to fight Jon Jones again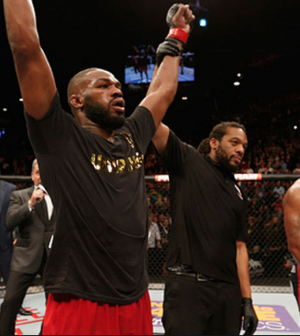 After a weekend with such a huge fight in boxing, it made me appreciate the sweet science. But I want blood, and the UFC usually delivers that. McGregor said after his match with Mayweather that he will return to fight in the UFC, albeit for a much lesser pay cheque.
The most notable UFC fight recently was between Jon Jones and Daniel Cormier, that ended with a Jones kick to the head of Cormier and then he pounced on top of Cormier to finish him off. Well, just recently Jones was busted for using steroids as he failed his pre-fight test and the win was awarded to Cormier.
On the MMA Hour with Ariel Helwani, Cormier was being interviewed and said that he would like to fight him again, even though Cormier's only losses came at the hands (or feet) of Jones. Bones is looking at being suspended for almost 4 years if the 2nd sample comes back positive as well, which it probably will as many people in the MMA world are saying, so Cormier might have run out of time.
"The sad thing is, man, I actually would fight Jones again," Cormier told Helwani. "I just don't know that there will be time. I will have run out of time."…
"Yo know what's sad?" Cormier said. I really don't believe he ever needed to do anything wrong. He really didn't need to do any of that stuff."
Jon Jones broke his silence with a tweet that didn't really make a whole lot of sense, but he was probably all snorted up on blow anyway.
Times like these remind me how blessed I truly am. So much to be grateful for

— Jon Bones Jones (@JonnyBones) August 27, 2017
I would like to see these 2 fight again though, hopefully, it happens.