Cody Bellinger ties MLB record for most homers before May 1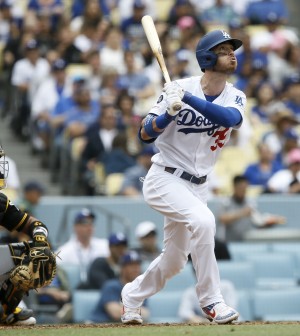 Cody Bellinger is en fuego!
By hitting one over the fence during the Los Angeles Dodgers' 7-6 win over the Pittsburgh Pirates on Sunday, the 23-year old has tied the MLB record along with Albert Pujols (2016), Alex Rodriguez (2007) and Milwaukee Brewers star Christian Yelich (2019) for the most home runs hit prior to May 1st at 14.
"Pretty special. Those are incredible players…To be in the same boat as those guys is pretty cool." said Bellinger.
"I'm understanding how to use my swing and working in the cage every day to repeat what I'm doing…Just not trying to do too much. It's fun, for sure. Every day before the game, I know what I want to do. The days I feel off, it's knowing what it is I want to do and getting it back."
To put Bellinger's incredible start into pespective, he is hitting a whopping .427 and currently leads the league in hits (44), runs scored (30), RBI (36), slugging percentage (.913), and OPS (1.413) with 103 at-bats and 29 games played.
The Dodgers currently lead the NL West by two games with a 19-11 record. They are aiming at winning their first World Series since 1988 after losing in the finals to the Houston Astros and Boston Red Sox in back-to-back years.