CM Punk's ugly, bloody loss to Mike Jackson at UFC 225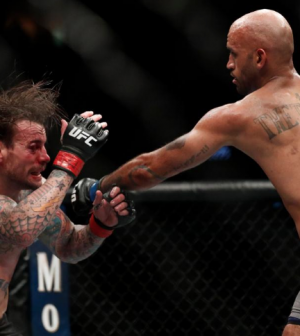 CM Punk's UFC career is almost certainly over after Mike Jackson en route to a lopsided unanimous-decision loss at UFC 225. Mike pummelled Punk for three rounds in his hometown of Chicago.
On Saturday, Punk stepped into the octagon for the second time and got his ass kicked. As charismatic and well known as he might be, it's very clear that from an athletic standpoint, CM Punk does not belong in the UFC. He's probably done for as a UFC fighter
Things became immediately clear that Punk was going to get aggressive off the bat. Jackson was content to coast on his superior knowledge and skills. With all his aggression, it was painfully clear that Punk's striking is neither refined nor dangerous.
He went for a few takedowns and even got one, though Jackson escaped most every attempt simply because Punk has no experience, which leads to a bloody beat down.
Yes, Punk has heart, but we didn't need to see him take two consecutive beatings to tell us that.
If it wasn't clear before, it's crystal now.
This was a short-lived career