Christine Sinclair Crowned the Winner of Lou Marsh Award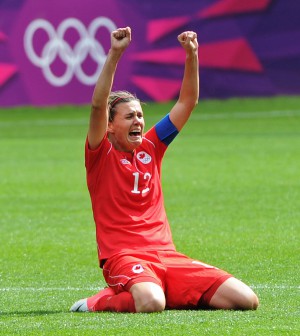 Christine Sinclair has been crowned the winner of the 2012 Lou Marsh Award.
Sinclair, the Canadian women's soccer player, led the national team to a bronze medal at the Summer Olympics in London, England.
The 29-year-old scored six goals during the summer contest, including a hat trick versus the eventual gold medalists United States in the Semi-Final.
The Burnaby, BC. native had a tremendous year for the national squad that included a stunning 23 goals and six assists in 22 games.
The honour is bestowed annually to Canada's outstanding athlete, and is decided by a panel of national sports editors, reporters and broadcaster.
Sinclair, was recently left off of FIFA's shortlist for women's player of the year award after being among the top 10 nominated for honour.