Charlie McAvoy suspended one game for hit to head on Josh Anderson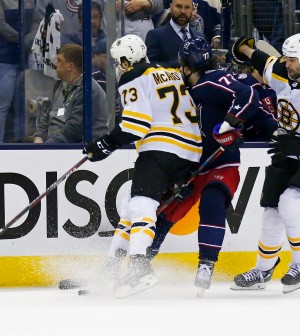 The NHL has laid down the hammer on Boston Bruins defenceman Charlie McAvoy…well, sort of.
The league announced that they have suspended him one game for his hit to the head on Blue Jackets winger Josh Anderson in Game 6 of their Eastern Conference Semifinal series on Monday night.
The incident occurred while Anderson moved the puck into the offensive line and attempted to dangle past the Bruins defence with approximately 22.3 seconds remaining in the period.
Unfortunately for the Blue Jackets, McAvoy was only assessed a two-minute penalty on the play despite pleas from head coach John Tortorella to make it a five-minute major.
The 21-year old will not be eligible to play in Game 1 of the Eastern Conference Final vs the Carolina Hurricanes.