CFL Party Crashed By Players Association
By
Admin
on March 21, 2018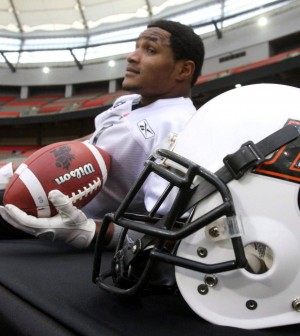 The Canadian Football League was celebrating the game at an event in Winnipeg yesterday when an unexpected group of guests arrived. The league's players association arrived in order to send a message regarding health concerns of the players. Most notably, workplace injuries like CTE and hits to the head have plagued football players since the beginning of the game, and the association was there to send a message that player injuries ought to be treated differently.
"The real message is the players are looking to find a remedy for workplace injuries. We're trying to get that message through to the decision-makers at the club level," said Association Executive Director Brian Ramsay regarding the party crash.
The group claimed that there was actually an intentional negligence of care for the leagues' players. The reason for the timing was the Supreme Court Of Canada lawsuit against the league by a player who had suffered a concussion and believed he'd been processed inadequately. The court consequently told the player to settle the issue in arbitration claims as opposed to the courts, leaving him in the dark.
It's inevitable that following this event, that a deal regarding the collective bargaining agreement should be up for negotiation. Obviously, the matter is an issue for many parties and it's only a matter of time that the CFL comes up with some better procedures regarding these types of injuries.