Dwyane Wade signs one-year deal with Cavaliers for the veteran's minimum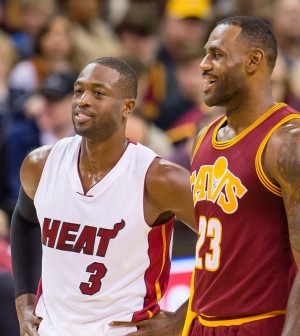 According to reports, Dwyane Wade has chosen to sign with the Cleveland Cavaliers.
The deal, which will become official once he clears waivers stemming from his buyout from the Chicago Bulls, is expected to be a one-year, $2.3 million veteran's minimum contract.
Playing alongside former teammate and close friend LeBron James, a relatively easy path to the NBA Finals and the possibility of a role in the starting lineup certainly made the Cavs an attractive destination for the veteran guard.
Wade and James played together as members of the Miami Heat for four seasons from 2010-2014. During that span, the team posted a combined 224-88 regular season record, made four trips to the NBA Finals, and won two NBA titles.
The 35-year old will be playing on his third team in three seasons after spending the first 13 seasons of his NBA career with the Heat.
The 12-time All-Star is coming off one of the worst seasons of his career, where he averaged just 18.3 points (lowest since his rookie campaign in 2003/04), 4.5 rebounds and a career-worst 3.8 assists in 60 games in 2016/17.