Carson Wentz out for remainder of 2018 season with back injury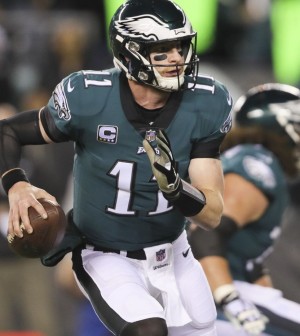 The Philadelphia Eagles playoff hopes have been dealt a huge blow.
The team announced that starting quarterback Carson Wentz will be sidelined for at least three months and miss the rest of the 2018 season due to a lingering "stress injury" in his back that has gotten worse as the season has progressed.
The 25-year old, who is in his third season with the franchise since being selected 2nd overall in the 2016 NFL Draft, had initially missed the first two weeks of the season because of a torn ACL he sustained in his left knee last season.
In his 11 games this season, Wentz has compiled 279 pass completions for 3074 yards, 21 touchdowns, 7 interceptions and a QB rating of 102.2. Unfortunately his stats have not translated to success in the standings.
The Eagles have gone 5-6 in his starts, and are currently out of a playoff position in the NFC with a 6-7 record on the season.