Carey Price becomes Canadiens all-time wins leader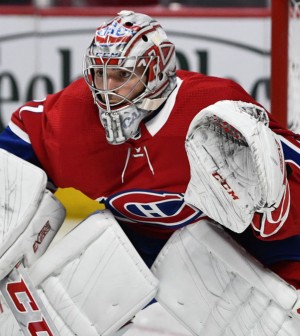 After making 20 saves for the Montreal Canadiens in their 3-1 win over the Detroit Red Wings on Tuesday, Carey Price surpassed the legendary Jacques Plante to become the all-time winningest goalie in Habs franchise history.
Price didn't think too much about his accomplishment following the game, he simply said that "it was a great time to share it with the fans" and will reflect on the achievement when the time is right. He was mainly pleased with the fact that his team escaped with a much-needed home win to keep pace in the battle for the final two Wild Card Spots in the Eastern Conference.
"It was definitely an important two points for us…Obviously we're in a dog fight right now and every effort put out for the rest of the season's going to be very important. So I feel like if we continue play the way we did tonight, we'll be successful." said Price
The 31-year old, who is currently playing in his 12th NHL season, has accumulated 315 wins, 2.47 goals-against average and a .918 save percentage in 613 career games with the franchise.
The 2005 fifth overall pick is also a seven-time NHL all-star, a 2014 Olympic gold medalist, and a recipient of the William M. Jennings Trophy, Ted Lindsay Award, Hart Memorial Trophy, and a Vezina Trophy in 2015.
He is the first season of an eight-year, $84-million contract extension.