Cardinals will use Carlos Martinez as reliever when he returns from shoulder injury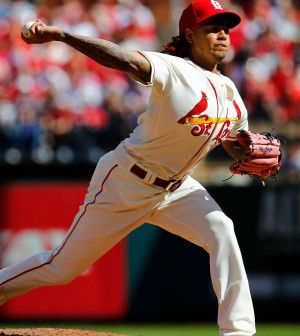 The St. Louis Cardinals are taking extra precaution when it comes to veteran right hander Carlos Martinez.
The team will ease the 27-year old back from injury by putting him in the bullpen as a reliever when he gets activated off the injured list. They plan on eventually making him a starter again once he proves he can handle the workload, but for now they are doing what he is best to sustain him for long-term success.
"That's the trajectory we're going right now based on how he's recovering, what he's doing, what he feels like he's capable of…It's just about the amount of intensity and the length of intensity and sustaining intensity, which would obviously be required as a starter to throw sides and be able to pitch every fifth or sixth day." said Cardinals manager Mike Shildt.
"We'd expect him to be able to come back and go a competent and confident 80 to 100 pitches, and we just don't feel like we're at that point right now."
Martinez has yet to pitch this season after experiencing shoulder weakness during Spring Training. He is working his way back to full health as we speak.
He posted an 8-6 record with a 3.11 ERA and 1.35 WHIP in 33 appearances and 18 starts last season. He has made two MLB All-Star appearances (2015, 2017) during his six seasons with the franchise.