Canada wins Gold at World Juniors, Media makes a big deal about Carter Hart routine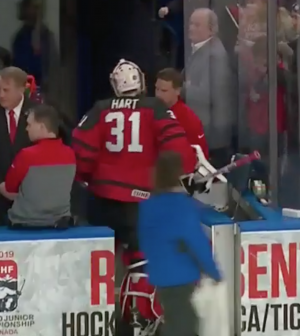 What an exciting Gold Medal game we got to experience on Friday night between Canada and Sweden, clearly the two best teams in the tournament. Sometimes it works out that the 2 best teams play in the Semi's while it's obvious whoever emerges out of that one will win Gold but not the case this year. One of the biggest issues for Canada over these last couple of tournaments was goaltending and their lack of it, this year it was never in doubt who Canada's starter would be and it worked out as good as you could've asked for with Hart stopping 35 of 36 shots faced against a powerful Sweden offence to secure gold.
The game was great and I'm sure you've either seen highlights or watched the game by now.
What I want to talk about here is the mainstream media trying to make a big deal out of Carter Hart's last off the ice routine. What else can you do when there isn't anything else to harp on or put a negative spin on… I mean they lost to the States in the outdoor game but that was more of a spectacle and it's hard to over-react to a shootout loss.
Watch this video featuring two TSN reporters (Frank Seravalli & Mark Masters) discussing Hart's last off the ice superstition/routine whatever you want to call it.
https://www.tsn.ca/hockey-canada/video/is-hart-s-last-off-the-ice-superstition-a-problem~1295209
He's a young goaltender that has come up using those superstitions all the way up to the level he is at now. I'm sure he has gone through many different ones throughout his career and this is one that will eventually have to be moved on from because it just won't work going forward on a professional level. Superstitions are nothing but mind games you play with yourself… and right now Hart is playing out of this world in the WHL.
Goaltending is such a mental position and it's important that he does whatever he needs to to be mentally prepared, even if it something like being the last off the ice every intermission. I really don't know what my point is here, when I started the article I was mad at the media for covering it but like, what else can they do really? It's something there that needs to be discussed… I guess I was mad that they were trying to put a negative spin on it that it's negatively affecting his team. But really it has no effect on his play, he had his worst statistical game in a blowout win that was never in doubt… sitting cold in the net for the majority of the game to a really weak Swiss team. I mean if you've read my article this far congrats and let me know what you think in the comments. I wonder how long it will take him to drop the "last off the ice" from his routine now it has been so publicly documented in the media. Other teams in the WHL will take notice and try to do everything in their power to knock him off his game and he will have to move on from this. Good luck Carter and enjoy the Gold buddy…