Byfuglien diagnosed with concussion; out at least a week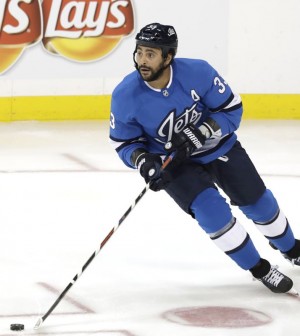 The Winnipeg Jets have lost one of their premier defenceman for the time being.
The team announced that Dustin Byfuglien will be sidelined for at least seven days after suffering a concussion during their 4-3 loss to the Pittsburgh Penguins on Tuesday.
The 33-year old sustained the injury when he collided with Penguins defenceman Jamie Oleksiak with about 16:10 remaining in first period action. He appeared dazed after getting up from the hit, and needed to be helped by teammates over the boards. Shortly after, he went back to the locker room to be examined by team doctors and was allowed to return to the game after passing concussion protocol.
Everything seemed fine until he started experiencing concussion symptoms the following day, and ended up sitting out their 6-5 win over the Chicago Blackhawks on Thursday.
Byfuglien has posted two goals, 15 assists and a plus-2 rating in 21 games this season.