Butler expected to play in Timberwolves opener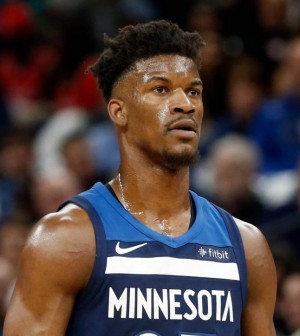 Despite all the drama surrounding Jimmy Butler's trade request, it appears he will begin the season with the Minnesota Timberwolves.
According to reports, the disgruntled star forward had a lengthy conversation with Timberwolves owner Glen Taylor and head coach/president Tom Thibodeau. They will continue searching for a suitable trade partner but until then, he was ordered to conduct himself professionally and be a top notch teammate.
"They want me to go out here and hoop to the best of my abilities," said Butler.
"Make sure I'm healthy, compete, because that's what I love to do, and do it for the guys in the same jerseys as me."
He practiced with the team on the weekend, and committed to playing in their home opener against the San Antonio Spurs on Wednesday.
The 29-year old averaged 22.2 points, 5.3 rebounds and 4.9 assists in 63 games in his first season with the Timberwolves in 2017/18.