Bulls move on from head coach Fred Hoiberg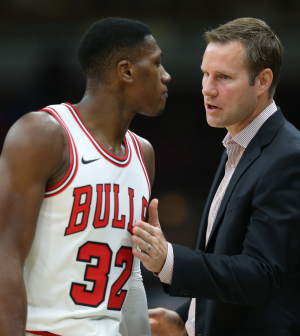 In an unexpected move, the Chicago Bulls have decided to cut ties with their head coach on Monday.
The team announced that they have fired Fred Hoiberg, and named associate head coach Jim Boylen as his replacement for the time being.
"Decisions like this one are never easy to make, however I felt this was the right choice for our organization at this time. After a thorough evaluation, I elected to make this move with the overall development of our team in mind. As a team, I believe it is imperative that we make unfaltering strides in the right direction and build the right habits to help put our players in the best position to evolve not only now, but into the future. I want to thank Fred for his dedication and efforts, as well as for his enduring commitment to our team." said Bulls Executive Vice President of Basketball Operations John Paxson.
The decision comes as a surprise since the team is in the midst of a rebuild and weren't supposed to realistically compete for a playoff spot in the first place. On top of that, have dealt with a significant amount to injuries start the season (Lauri Markkanen, Kris Dunn, Bobby Portis to name a few).
Hoiberg, who was hired in June 2015, posted a combined a 115-155 record, and led them to the playoffs once in his three-plus seasons at the helm.
The Bulls currently sit second last in the Eastern Conference and have the third worst winning percentage in the NBA with a 5-19 record (.208) through 24 games so far in 2018/19. They have lost six straight and are 1-9 in their last 10.