Brooklyn Nets latest NBA team to land jersey sponsorship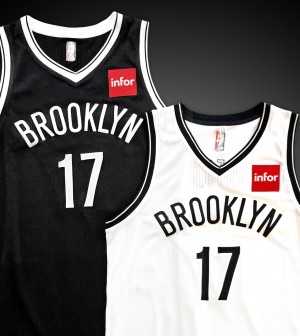 The Brooklyn Nets announced Tuesday that they have agreed to a three-year, $8 million jersey sponsorship deal with New York City software company Infor.
As a result, Infor's logo will appear as a sponsorship patch on the front left (2.5 inches by 2.5 inches) of the Nets jerseys beginning in the 2017/18 season.
"Our alliance with Infor is a transformative partnership for both business and basketball operations and is indicative of the cutting edge and gritty culture we are building," said Brooklyn Sports & Entertainment CEO Brett Yorkmark.
"The patch on the jersey represents our deep engagement with Infor and the software company's role in taking our performance to the highest level in basketball operations and the business side."
Infor will also provide data analytics to assist with the franchise's business operations and improve the fan experience.
They become the fourth team to land a jersey sponsorship deal this season, joining the Boston Celtics (General Electric), Philadelphia 76ers (StubHub), and Sacramento Kings (Blue Diamond Growers).
"This isn't about sponsorship," said Infor President Stephan Scholl.
"It's really about making them win more games with my name on their jerseys. That's a great message for us and our customers."