Broncos decline to pick up linebacker Brandon Marshall's option for 2019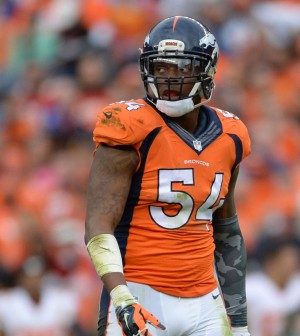 Brandon Marshall's time with the Denver Broncos is coming to an end.
The team confirmed that they will not exercise the 29-year old linebacker's option for the 2019 season, which will make him an unrestricted free agent.
Marshall, who initially signed a four-year, $32 million contract extension in 2016, has spent the last six seasons with the franchise.
Despite playing a big role in shutting down the Panthers high octane offence to capture Super Bowl 50 in 2016, Marshall has dealt with lingering injuries that have affected his productivity on the field and forced him to missed a combined 10 regular season games over the past three seasons.
He may be sad to move on, but expresses nothing but love when looking back at his time with the Broncos.
"I love the organization, they gave me my first chance to play," said Marshall.
"I love all my teammates. I really love city. I felt embraced on and off the field. I'm just sorry I was injured 2 of the last 3 years…It's a really great organization so we'll see what happens."
Marshall posted 42 combined tackles, and one pass defended in seven starts and 11 games this past season.