Brock Lesnar Rules Out Return To MMA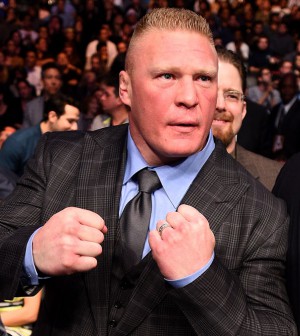 Despite the rumors, former UFC heavyweight champion Brock Lesnar confirmed in an interview with ESPN that he has officially retired from MMA in favor of continuing his career as a WWE wrestler:
"I'm officially closing the door on MMA…I re-signed last night with the WWE."

"It was a very hard decision at this stage of my career. The fighter inside me wants to compete. The father and husband — I'm an older caveman now. I make wiser caveman decisions. So, I'm here to say my legacy in the Octagon is over." said Lesnar

"It was a hard decision to make. It took me a year. I've thought about this for a year. At the end of the day, it's all about me wanting to have fun. The last two-and-a-half months I've been training to get back into the Octagon. I felt physically great, but something lacked mentally — and that's not good."

"Old Vince McMahon put the offer on the table that I couldn't refuse. I love being in the squared circle, I always have. I work part-time with full-time pay. I'm happy."
Lesnar, 37,  previously fought in the UFC from 2008-2011. During that span, he went 5-3, winning two of those by KO/TKO and two by submission.
He also held the UFC heavyweight championship for nearly two years before losing to Cain Velasquez via TKO at UFC 121. His last UFC fight, which took place at UFC 141 on December 30th 2011, resulted in a first-round loss to Alistair Overeem via TKO (kick to the body and punches).