Bring Out The Brooms: Predators Sweep Blackhawks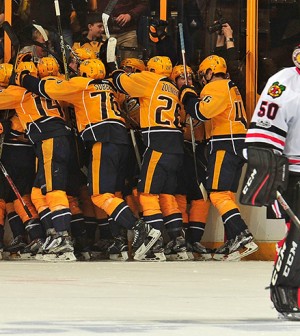 For the first time in franchise history, the Nashville Predators have swept a series. Not only did they sweep their series against the Blackhawks but they were the underdogs going into the series. Chicago faced a Pekka Rinne who was on fire as he earned back-to-back shutouts to start the series. Rinne allowed only 2 goals in game 3 and 1 goal in game 4. In a four-game series against the Preds, the Blackhawks only managed to score 3 goals.
After a scoreless first period, Roman Josi got the scoring started as he blasted a one-timer off of a face-off that somehow trickled by Corey Crawford. The Preds 1-0 after 40 minutes of action. Colton Sissons gave the Preds an insurance goal as he tapped in a rebound to make the score 2-0. Shortly after Sissons scored, Roman Josi found the back of the net for the second time this game giving the Preds a demanding 3-0 lead over the Blackhawks. After making it 3-0, the Blackhawks knew their season was coming to an end as many players put their heads down and seemed to have given up. Jonathan Toews cut the lead down to 3-1, but they were never able to make the comeback and Victor Arvidsson scored his second of the playoffs and he sealed the deal for the Preds.
The Nashville Predators will now have to wait to see who they place in the next round of the 2017 playoffs. The Chicago Blackhawks could now hit the golf course as their season as come to an abrupt end.