Braves to hire Alex Anthopoulos as general manager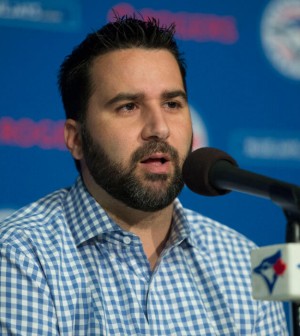 It looks like the Atlanta Braves have found their man.
According to reports, the team will hire Alex Anthopoulos as their new general manager, and are expected to make it official sometime this week.
Anthopoulos, 40, had been serving as vice-president of baseball operations with the Los Angeles Dodgers since January 2016, and was previously the general manager of the Toronto Blue Jays for six seasons (2010-2015) before be abruptly decided to step down from the position in November 2015.
Although the Blue Jays posted a modest 489-483 record during his tenure, he truly made his mark on the organization in 2015.
After he made a big splash prior to the 2015 trade deadline (acquiring Troy Tulowitzki, LaTroy Hawkins, David Price, Ben Revere, and Mark Lowe), the Jays went on a big run. They won 42 of their final 60 regular season games, and won their first division title/clinched their first playoff berth since 1993.
They were eventually eliminated in six games by the Kansas City Royals in the ALCS, but their success managed to revitalize the passion of the fan base, and set them up for another ALCS appearance in 2016.