Blue Jays to retire Halladay's no.32 on opening day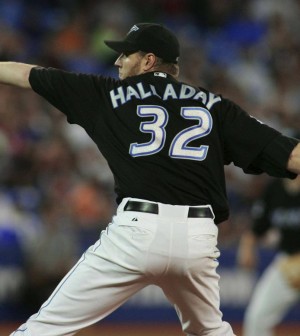 The Toronto Blue Jays are set to honour one of their all-time greats in a big way.
The team announced they will retire Roy Halladay's number 32 prior to their season opener against the New York Yankees at Rogers Centre on March 29.
"Through Roy's values, pride, work ethic, and perseverance, he epitomized what it means to be a Blue Jay," said Blue Jays president/CEO Mark Shapiro.
"And while his legacy is clear, it goes far beyond the number on his back or his on-field accomplishments, serving as a shining example of how to live a meaningful life and positively impact others."
He will become the second player in the franchise's history to get his jersey number retired. Former All-Star infielder Roberto Alomar had his number 11 retired in July 2011.