Blue Jays pick up Justin Smoak's option for 2019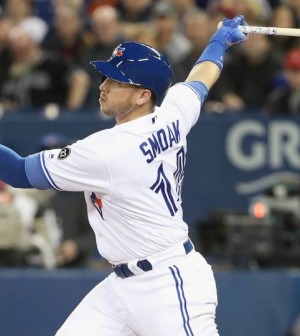 A fan favourite will be back with the Toronto Blue Jays next season.
The team has announced that they have picked up first baseman Justin Smoak's $8 million option for next season.
The 31-year old will be entering his 5th season with the franchise in 2019. If the two sides are unable to agree on an extension, he will become an unrestricted free agent following the conclusion of the 2019 campaign.
Smoak posted a .242 batting average, .808 OPS, 25 homers and 77 RBI in 147 games last season.
He has amassed a combined 405 hits, 95 homers, 260 RBI, and 225 walks over a span of 563 games and 1900 plate appearances with the Blue Jays.