Blue Jays Continue to Struggle; Changes NEED to be Made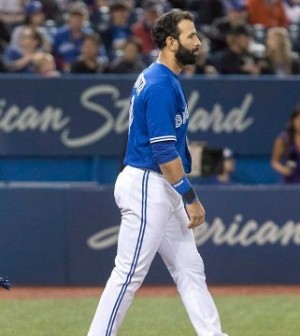 Three weeks into the season, the Blue Jays are the only team in the MLB that still hasn't earned consecutive wins. Did I mention they only have 3 wins in 3 weeks? Not only did they get off to the worst start in franchise history, they lost 3 major pieces to the DL. That's right! Aaron Sanchez, Josh Donaldson, and J.A. Happ are all dealing with injuries and have all been placed on the 10-day DL. Sanchez is dealing with blisters on his throwing hand, while Donaldson is dealing with ANOTHER calf injury, and Happ has inflammation in his throwing elbow! Meanwhile, manager John Gibbons is simply not doing his job. Changes need to be made around the Blue Jays organization before things start to get really ugly.
Yesterday, prior to their game against the Red Sox, Gibbons told the media that "Bautista hasn't asked and won't ask to be moved lower in the batting order." and then followed up with the following statement: "No chance, and I'd be disappointed if he did." Bautista is expected to be one of the Jays best batters but has struggled tremendously this season. Although Bautista has been good for the Jays in other years, he simply isn't producing this year and as the manager, Gibbons should move him down the order until he gains his confidence at the plate. Move someone like Troy Tulowitzki or Justing Smoak up to where Bautista is until Bautista gets his rhythm back. I understand Bautista has a big ego, but Gibbons needs to notice his player isn't playing and move him down the order accordingly because right now Gibbons is hurting the Jays more than he's hurting Bautista's feelings. Following yesterday's loss to the Red Sox, Bautista was asked about his season-long slump and responded with the ensuing statement: "Anytime you're looked at as a contributor, and you're not, it kinds weighs on you." He went on to say "I'm not proud of the last two days." Bautista is currently batting .109 this season with 0 HRs and 1 RBI. Gibbons needs to realize who's playing well and who's not and adjust the lineup accordingly, which is something he hasn't done yet this season.
Unfortunately, Gibbons and Bautista aren't the only problems with the Blue Jays, other players who are supposed to be contributing are not. Russell Martin has been awful this season at the plate. Kendrys Morales has been pretty average, and it seems the only time the Jays have a chance to win, is if Morales hits an HR. We can't rely on 1 guy to provide for the entire team. 2 of the Jays 3 wins comes when Morales hit a grand-slam and when he hit a walk-off HR. That's not acceptable. Morales gave the Jays a second chance in yesterday's game as he homered in the bottom of the 9th to tie the game up at 1s. Morales has been the Jays offense and players need to step up and help him out. Devon Travis is batting .104 with 0 HRs and 2 RBIs. Yes, Russell Martin needs a break here and there but Jarrod Saltalamacchia hasn't been good either, as he's batting .071 with 0 HRs 0 RBIs and 1 run.
The only good signs we have seen from the Blue Jays this season is the starting rotation, which isn't even healthy considering two of our best starters are on the DL. The Blue Jays are starting journeyman Mat Latos against the Angels today, as they don't have any other options right now.
The Blue Jays were handed their 12th loss of the season yesterday, as they took on the Boston Red Sox for their series finale. Marco Estrada was set to take the mound for the Jays and Chris Sale was starting for the Red Sox. Sale has been nothing but spectacular this season, so the Jays needed to be on their game. Both pitchers pitched extremely well as they both didn't let up an earned run. The game was tied at 0 going into the 9th inning when closer Roberto Osuna was brought into the game. Osuna gave up back-to-back doubles leading to the first run of the game and giving the Red Sox a 1-0 lead. As previously mentioned, Morales gave the Jays another chance yesterday as he hit a solo shot to tie the game up at 1-1. Osuna gave Morales a big hug when he ran back into the dugout, as Morales prevented Osuna from earning the loss. The Jays brought in Jason Grilli who has been his usual self; below average. Yes, last year Grilli was good for the Jays, but he continues to struggle this year. Grilli issued 2 walks and gave up 2 hits leading to 3 earned runs. Grilli blew it for the Jays once again as the Jays offense unsurprisingly couldn't produce any runs in the bottom of the 10th.
If change doesn't come soon, the Blue Jays season is going to be frustrating and disappointing to watch.