Blackhawks legend Stan Mikita passes away at 78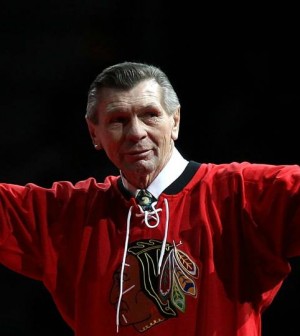 The NHL lost one of its all-time greats on Tuesday.
Chicago Blackhawks legend Stan Mikita passed away at the age of 78. The sad news comes three years after he was diagnosed with dementia with Lewy bodies.
"Stan Mikita lived a remarkable life and was a wonderful man, respected and revered by so many…One of the greatest players in NHL history and a Chicago icon, he was a pioneer of the game in so many ways. He designed the distinctive helmet he donned later in his career, when that still was a rarity. He curved his stick blade to an extent previously unthinkable, causing his shot to do tricks. He utterly transformed his playing style in his prime, going from one of the League's most penalized players to one of its most gentlemanly." said NHL Commissioner Gary Bettman.
"Once he arrived in Chicago he never left, becoming a pillar of the city. He played in more games for the Blackhawks than anyone and came to be as much a symbol of the franchise as The Roar of Chicago Stadium and the United Center and the classic sweater. We are grateful for all Stan gave to us — his fans, his game, his admirers, his league and his city — and we mourn his passing."
Mikita spent his entire 22-year career with the Blackhawks organization from 1958-1980.
During that span, he amassed 541 goals, and 926 assists in 1326 career games. He also played in the NHL All-Star Game nine times, named to the NHL's First All-Star Team six times, Hart Memorial Trophy
and Lady Byng Memorial Trophy twice, won the Art Ross Trophy four times, and took home the Stanley Cup in his second season in 1961.