Betts, Yelich win take home 2018 MVP awards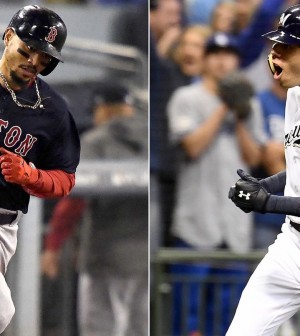 The American and National League MVP Awards were announced on Thursday night.
Boston Red Sox outfielder Mookie Betts took home the AL MVP Award, while Brewers outfielder Christian Yelich easily ran away with the NL MVP.
Betts, 26, received 28 first place votes, and two second place votes for a total of 410 points. He finished the 2018 season with a .346 batting average, 1.078 OPS, 32 homers, 129 runs and 80 RBI in 136 games this past season. He led the entire league with 10.9 wins above replacement.
"It's definitely a special award and something that I cherish, but I think the most important thing is that we won a World Series and got to bring a trophy back to Boston." said Betts.
In the National League, Yelich finished with 29 out of a possible 30 first-place votes for a total of 415 points, which is 156 points more than the runner-up Javier Baez.
The 26-year old, who was in his first season with the Brewers after an offseason trade with the Miami Marlins, posted a .326 batting average, 1.000 OPS, 36 homers, 110 RBI and 22 stolen bases in 147 games.
"It's an incredible feeling, something you never expect…Playing Little League, it's hard enough to make it to the Major Leagues. To win the MVP is kind of mind-boggling." said Yelich.