Ben Simmons reaches milestone in win over Knicks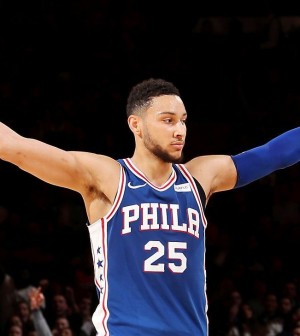 What a rookie season it's been for Ben Simmons.
The Philadelphia 76ers forward put himself in some legendary company by posted 13 points, 10 rebounds and 12 assists in the team's 118-110 win over the New York Knicks on Thursday.
He recorded his eighth triple-double of the season, which puts him past Magic Johnson for second all-time in triple-doubles recorded by an NBA rookie. The only player higher than him is Oscar Robertson, who recorded a whopping 26 triple-doubles in his rookie season with the Cincinnati Royals back in 1960/61.
"It's surreal knowing that the game's been played for a long time and so many greats have been through," said Simmons.
"I've set a record with Magic and Oscar Robertson, which is surreal to me."
On top of that, the 21-year old Australian became the third rookie in NBA history to record at least 1,000 points, 500 rebounds, and 500 assists in a single season. The other two players to do that are none other than Magic Johnson and Oscar Robertson.
Simmons is averaging 16.2 points, 7.8 rebounds and 7.7 assists in 66 games this season.