Ben Roethlisberger signs with Steelers through the 2021 season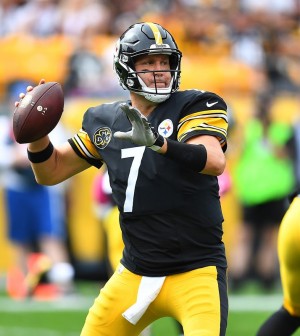 Pittsburgh Steelers are bringing back Ben Roethlisberger back for a few more years.
The team announced Wednesday that they have signed the veteran quarterback to a three-year contract extension that will keep with the franchise through 2021.
The 37-year old will have a base salary of $12 million next season, and is expected to make an annual average above $30 million in each of the following two seasons in 2020 and 2021
"I am grateful to the Rooneys and the Steelers organization for continuing to believe in me," Roethlisberger said in a statement announcing the deal. "It has always been a goal to play my entire career in Pittsburgh. This is home for me and my family, and we love this city. I am as excited to be a Steeler in year 16 as I was when they drafted me. They will get my absolute best." said Roethlisberger.
Roethlisberger, who was selected 11th overall in the 2004 NFL Draft, has compiled 4616 pass completions for 56,194 passing yards, 1350 rushing yards, and 382 combined touchdowns over a span of 216 games and 15 seasons with the Steelers.
He holds franchise records for passing yards and passing touchdowns. He is also a two-time Super Bowl champion, six-time Pro Bowler, and two-time NFL passing yards leader.