Ball Family Arrive in Lithuania
By
Admin
on January 3, 2018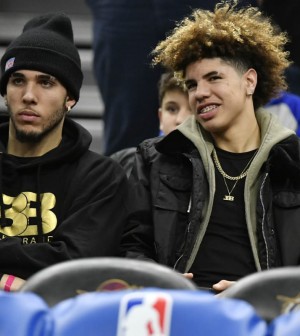 19 Year old LiAngelo and 16 Year Old LaMelo Ball have landed in Lithuania to begin their basketball careers at a local club. The brothers of Lakers point guard Lonzo Ball and sons of loud-mouthed Big Baller Brands businessman Lavar Ball have signed one year contracts with the Lithuania-based BC Prienai team. This was the first time BC Prienai have ever hired foreign players and have clearly made a statement move to go out of their way to acquire pop-culture personalities of the Ball family's stature.
Basketball in Lithuania is a massive past time which often attracts big numbers and fills venues. Even notable NBA players such as Jonas Valanciunas of the Raptors or Arvdas Sabonis of the Trailblazers have made the long journey across the pond in hopes of making it big in the North American league. That being said, when the Ball family got off the airplane, they were swarmed by reporters, and locals singing a local welcome song. Chaos further ensued as the family attempted to push through the crowd and get to their bus.
Both LiAngelo and LaMelo will make their professional debut on January 9th against Tsmoki-Minsk. LaVar Ball has been presumably championing his sons to play in this league as a means to get the attention of the NBA and get them into the league in the long run. And while naturally, the brothers will get more publicity from this move, it's currently uncertain as to whether or not they will actually end up in the NBA.