Backes avoids second suspension of the season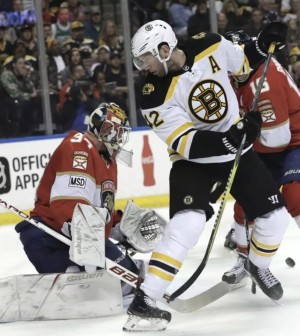 In just his second game back since serving a three-game suspension, Boston Bruins forward David Backes appears to have escaped punishment for another controversial hit.
According to reports, the league has apparently decided not to suspend Backes for hitting Vincent Trochek in the head during the team's 3-0 loss to the Florida Panthers on Thursday. Backes, who delivered the hit while the Bruins trailed 2-0 in the first period, received a match penalty on the play.
He defended himself following the game, claiming the entire incident was accidental.
"Tracking back through the middle, expecting the puck to be dumped in, to go help (and) maybe be the first man back on it and all of a sudden he cuts to the middle and I'm going to the get the puck and he kinda just turns right into me," said Backes.
"I feel like my shoulder's down, I hit him right through the shoulder and he's much smaller than I am. But I think the good thing is he finishes the game, he's back out there next shift and not injured on the play."
Backes has posted 11 goals and 16 assists in 49 games this season.