Arizona fires head coach Rich Rodriguez amid sexual misconduct allegation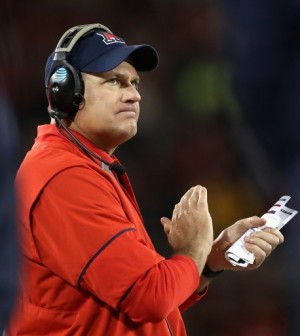 Arizona university have fired their football head coach Rich Rodriguez after six seasons with the program.
The news comes days after sexual harassment allegations against the 54-year old were made public stemming from an investigation into the school's questionable workplace environment that began in October. The accusations against Rodriguez were reportedly made by his former administrative assistant.
"In October 2017, the University's Office of Institutional Equity retained outside counsel to investigate allegations of sexual harassment against Mr. Rodriguez after a former employee in the Department of Athletics alleged that Mr. Rodriguez harassed her on multiple occasions." said University president Robert C. Robbins
"Like all University employees, Mr. Rodriguez is entitled to a fair investigation and due process and at no time has the University believed that Mr. Rodriguez posed any danger to a member of the community."
Rodriguez posted a combined 43-35 record during his tenure with the Wildcats.
He recently admitted to having an extramarital affair, but vehemently denies the allegations placed against him.
"The University initiated a thorough outside investigation. I fully cooperated with the investigation, including voluntarily taking and passing a polygraph.The University determined that there was no truth to her accusations and found me innocent of any wrongdoing." said Rodriguez.
"This was a thorough investigation that lasted over 10 weeks and included multiple members of my current and former staff. Notably, the complainant refused to cooperate with the investigation. It was comforting to be reassured of what I already knew, the claims were baseless and false."