Angels name Brad Ausmus their new manager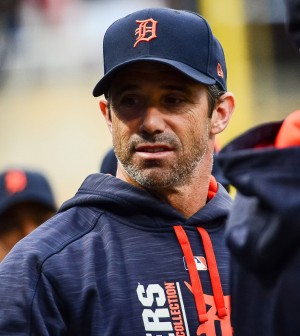 Well this came out of left field.
With other names being floated around, the Los Angeles Angels surprised the baseball world by hiring former Detroit Tigers bench boss Brad Ausmus as their new manager. The contract lasts three seasons.
"Over the past few weeks, our baseball operations personnel sat down with numerous highly qualified and impressive candidates for our managerial role. We are thankful to all of them for their time and effort throughout the process," said Angels GM Billy Eppler in a statement.
"Ultimately, Brad's balance of connectivity, communication and leadership skills, as well as his understanding of evolving strategies and probabilistic approach to decision-making, led us to him. We believe his knowledge, drive and growth mindset will allow him to integrate seamlessly with our players and staff and will be pivotal in advancing our culture and moving us toward our goals as an organization."
Ausmus, 49, previously enjoyed a four-year stint as manager of the Tigers from 2014-2017. During that span, the team posted a combined 314-332 regular season record. They only made the postseason once in his tenure, which ended in the team losing three straight games to the Baltimore Orioles in the 2014 ALDS.
The Ausmus hiring marks the first time the Angels will begin a season with a new manager since Mike Scosia took over the duties in 2000. The Angels recently decided not to bring him back after 18 seasons, which concluded with the team missing the postseason for three straight years.