Andrew Wiggins signs monster deal, 5 year $148 million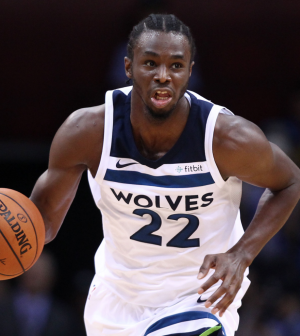 Hey now, not bad for a kid from Canada trying to make it in the NBA.
Ok maybe not such an underdog story, as Wiggins was picked 1st overall by the Cavs but then traded to Minnesota for Kevin Love a few years back. Imagine, making $148 million over just 5 years, pretty fucking bonkers. I'm sure he's making more on the side from endorsement deals and all that too, good for him, he seems pumped about it too.
"I'm very excited to continue my career with the Timberwolves," Wiggins said in the press release. "I love it here. The fans and organization have supported me from my first day here in Minnesota.

"I want to thank (owner) Glen Taylor, (head coach) Tom Thibodeau, the entire coaching staff, and my teammates for believing in me. We've had some good times over the last three seasons, but the best is yet to come. I look forward to doing right by them and bringing this team to the postseason."
While Wiggins still hasn't proved a whole lot yet because the team has been so dreadful, they haven't had a winning season since 2004-2005, he is regarded as one of the best young talents in the NBA and with the acquisition of Jimmy Butler it looks like the T-Wolves could make the playoffs this season.
Karl Anthony Towns and Andrew Wiggins won R.O.Y. in back to back season, so this young Minnesota team and their fanbase have something to look forward to.
Unless they fuck it all up.