Alouettes fire head coach Jacques Chapdelaine, defensive coordinator Noel Thorpe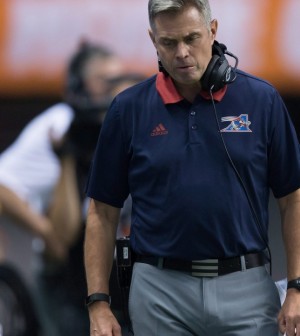 In hopes to salvage what is left of the season, The Montreal Alouettes have decided to make major changes to their coaching staff.
The Als, who are 3-8 on the season and in the midst of the four-game losing streak, announced on Wednesday that they have cut ties with head coach Jacques Chapdelaine and defensive coordinator Noel Thorpe.
General manager Kavis Reed will fill in as interim head coach, while Defensive line coach Greg Quick will replace Thorpe's role on the team for the remainder of the 2017 season.
The team's struggles on the defensive side of the field have been well documented as of late. They have allowed their opponents to score at least 32 points in each of the last four games, which includes a 41-18 blowout loss to the B.C. Lions last Friday.
They rank second last in the league in points (221) through 11 games. Only the lowly Hamilton Tiger-Cats trail them in that category.
As for their stability behind the bench, the firing of Chapdelaine marks the Alouettes fourth coaching change since Marc Trestman abruptly left the team to pursue an opportunity in the NFL back in 2012.
Chapdelaine, who was initially promoted to head coach on September 19, 2016, finishes his Alouettes tenure with a combined 7-10 record.