Alexander Zverev becomes youngest-ever to claim ATP Finals title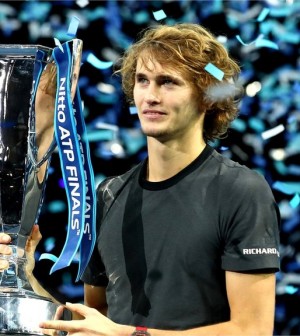 He may only be 21-years old, but Alexander Zverev has already put himself amongst the top tennis players in the world.
Zverev upset no.1 seed Novak Djokovic on Sunday with a straights sets win (6-4, 6-3) to capture his first-ever ATP Finals title.
He becomes the youngest champion in ATP World Tour Finals history, and first German to win the tournament since Boris Becker in 1995.
"I'm unbelievably happy. Obviously it is the biggest title I have ever won," said Zverev after the match.
"How I played today, how I won it, for me it's just amazing."
Zverev, who took home about £2 million in prize money, also beat his childhood idol Roger Federer the previous day with a 7-5, 7-6 straight-sets victory.