Alex Smith out for season after suffering broken tibia, fibula on anniversary of Thiesmann leg break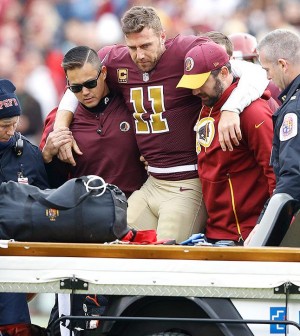 On the 33rd anniversary of Joe Theismann's infamous leg break, another Washington Redskins suffered an eerily similar fate on Sunday.
With the Redskins trailing the Houston Texans 17-7 midway through the third quarter, quarterback Alex Smith sustained a gruesome and potentially career-threatening leg injury when he was sacked by Kareem Jackson. After remaining on the ground in agony for several minutes with his right leg bent the opposite direction, Smith was eventually taken off the field on a stretcher and did not return.
Tests following the game determined he sustained a broken right tibia, fibula from the incident. He will immediately undergo surgery to repair the damage, and as a result, has been ruled out for the remainder of the 2018 season.
"I saw a pile of people go down, and then I saw Alex's leg in the position it was in. And I turned away after that…It brought back vivid memories." said Theismann, who suffered almost the exact same injury on November 18, 1985.
Redskins head coach Jay Gruden was as devastated by the injury as anyone else impacted by the injury.
"I know it was very painful for him and heartbreaking for a lot of people," said Gruden following the game.
"He's a great guy and hard worker and one of the key leaders on this football team. These things happen in pro football, unfortunately. Just hate to see them happen with a guy like Alex."
The costly injury also seriously puts a damper on the Redskins' chances of securing first place in the NFC East, and potentially a spot in the post-season. Although they are currently in first place with a 6-4 record, the Dallas Cowboys are just one game back with six games remaining (three of which against NFC East opponents).
The 34-year old, who is in the first season with the Redskins, has posted 205 pass completions, a 62.5 pass completion percentage, 10 touchdowns and five interceptions in 10 games this season.