A fan flipped John Cena the bird, he had a great response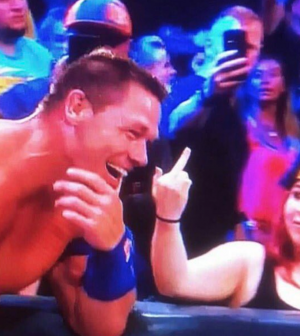 There's a lot of hate going on in the world, has been for a long time. With the recent events in Charlottesville, there is more attention being paid to those who bring the hate rather than how to deal with it.
I'm not a big wrestling fan, but I know enough about John Cena cause I've seen him in movies and my ex made me watch this god-awful show… Total Divas (Ok maybe I liked it a bit) and he was dating one of the girls on the show. He's always done great charity work, I heard he has the record for most make-a-wish acts fulfilled, so pretty good dude.
Recently at "Smackdown Live" Cena was flipped the bird by some idiot in the crowd. Usually, I'd say whatever, he's a professional athlete and it's just a stupid fan but the way Cena responded is perfect timing for all the hate that is going on in the world
No matter what you do, there will always be hate. You have 2 choices, Hate back, or Smile and #RiseAboveHate I prefer option 2