50 Cent claims he can beat up McGregor in a street fight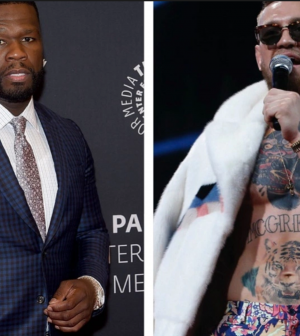 Ok look, I'm all for talking shit and pumping your own tires. Not my cup of tea cause I'm about as useful as a hole in a bucket but some people feel the needs to speak their worth.
This is the case with 50 Cent, Conor McGregor, and Floyd Mayweather.
50 Cent had claimed that he had a role in making the money fight happen between the two of them in an appearance on Jimmy Kimmel.
"I actually ran into Dana (White) when they were putting the fight together, and I told 'em, I said 'go after it, 'cause I spoke to Floyd and he feel better about it now,'" 50 Cent said… When asked if he helped make the fight happen, 50 Cent replied, "Yeah" and joked that he's "going to get something" for his efforts.
In the lead up to the fight, McGregor took a run at 50 about his bankruptcy and all that.
"I was like this fool didn't know if he was fighting Floyd or me," 50 Cent, who's friends with Mayweather, said. "But he was doing his job; he was putting on a show and making sure everybody was paying attention."
So during the fight when it became more obvious McGregor was going to lose, 50 sent out a couple Instagram's chirping the Irishman.