2021 Grey Cup to take place in Hamilton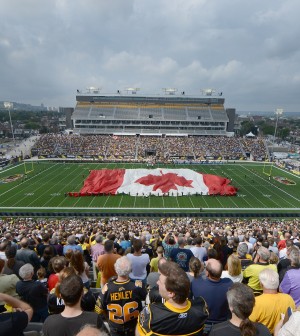 The Grey Cup will be heading back to The Hammer for the first time in nearly 30 years.
The CFL announced on Thursday that they have awarded the 2020 Grey Cup to the city of Hamilton. The game will take place at Tim Hortons Field. The exact time and date will be decided in the near future.
"We're thrilled that Hamilton, which boasts a football tradition second to none, will welcome the Grey Cup in 2021, its first opportunity to host in 25 years. I know the Tiger-Cats look forward to showcasing the renaissance underway in the City of Hamilton, which will celebrate its 175th anniversary that year," said CFL commissioner Randy Ambrosie.
"Our Governors want to thank the Montreal Alouettes for a first-class bid. Unfortunately, 2021 was not an option for them because of expected renovations at Olympic Stadium. We certainly anticipate returning the Grey Cup in the future to the dynamic city that is Montreal and the welcoming province that is Quebec."
The city, which will host the event for the 11th time, has not hosted the Grey Cup since the 84th Grey Cup in 1996. The game, which took place at the now demolished Ivor Wynne Stadium, ended with the Toronto Argonauts beating the Edmonton Eskimos by a final score of 43-37. Doug Flutie won the Most Valuable Player.