2018 Vezina Trophy finalists announced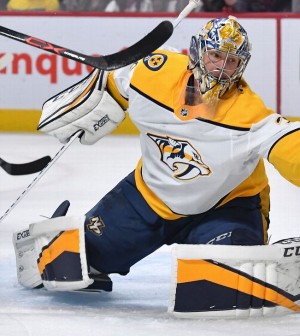 The NHL has announced the three finalists for the 2018 Vezina Trophy. They are as follows: Nashville Predators goalie Pekka Rinne, Winnipeg Jets netminder Connor Hellebuyck and Tampa Bay Lightning's Andrei Vasilevskiy.
The award, which is given to the goalie that is "adjudged to be the best at this position" will have a first-time winner this year since none of the remaining finalists have ever taken home the trophy throughout their careers, although Rinne has been nominated on three other occasions (2011, 2012, 2015).
Here's how the finalists stack up against one another.
Rinne: 42-13-4 record, 2.31 goals-against average and .927 save percentage.

Vasilevskiy: 44-17-3 record, 2.62 goals-against average and .920 save percentage.

Hellebuyck: 44-11-9 record, 2.36 goals-against average and .924 save percentage.
The winner, which will be decided and voted on by NHL General Managers, will be announced at the NHL Awards Show on June 20th in Las Vegas.