2018 Memorial Tournament Winner: Bryson DeChambeau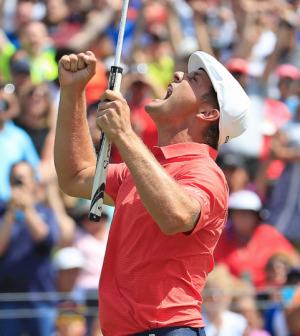 It's tough to say exactly happened over the final nine holes at the 2018 Memorial Tournament on Sunday. All I know for sure is that Bryson DeChambeau won in the first three-man playoff in event history over Kyle Stanley and Ben An with a thrilling birdie putt at the final hole.
The victory is the second of DeChambeau's still-budding career. It's his sixth top 10 of the season and just the 62nd event of his PGA Tour career. His other win came in the 2017 John Deere Classic. It's difficult to overstate how poor DeChambeau was off the tee on Sunday. After leading the field in driving on Saturday, he finished 58th in strokes gained off the tee on Sunday. He saved himself with a good short game and the fact that he took a one-stroke lead into the round.
"I can't believe I did it today," DeChambeau told Peter Kostis of CBS Sports. "I knew I was struggling with my ball-striking all week. I was fortunate enough to get it back in play and get up and down on almost every hole. I can't even describe it right now. To be able to win [Jack Nicklaus'] event is such an honour. He's the greatest to play. I'm speechless."
After Sunday's victory, DeChambeau, at age 24, is a two-time winner and feeling more validated for his unique style than he ever has.